SPECIFICATIONS
NAME:

LS (LIGHT SPORT)

MANUFACTURER:

X-AIR

EMPTY WEIGHT:

660 LBS.

GROSS WEIGHT:

1234 LBS.

USEFUL LOAD:

574 LBS.

FULL FUEL PAYLOAD:

484 LBS.

FUEL CAPACITY:

15 USGALS.

RANGE:

300 NM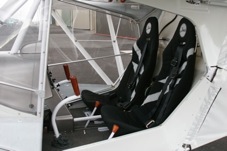 WELCOME TO X-AIR LSA
X-Air invites you to truly enjoy flight by experiencing flight in the X-Air LS. Comfortable and easy to fly, the X-Air LS is the essence of what the LSA category is all about, fun and affordable. These SLSA aircraft are fantastic!
Demonstration flights are available at our factory in Bend, Oregon and at regional dealerships.
X-AIR HISTORY
X-Air founder and designer, Joel Koechlin, has been in the aircraft manufacturing business for nearly 30 years from hang gliders to microlight, three axis aircraft. Known for their superb design and ease of flight, they have delivered over a thousand aircraft throughout the world. The X-Air H model was the basis for the US built X-Air LS which earned SLSA status in Summer 2008.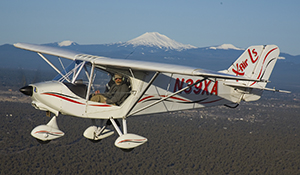 ABOUT THE AIRCRAFT
Fitting in to a Light Sport Aircraft can be a challenge these days. The X-Air LS boasts a generously wide 43 inch cabin.
PERFORMANCE
MAX. CRUISE SPEED:

113 MPH

ECON. CRUISE SPEED:

85 MPH

STALL SPEED:

39 MPH

VY – BEST RATE:

59 MPH/825 FPM

VX – BEST ANGLE:

56 MPH/685 FPM

VSO:

39 MPH

T/O ROLL:

265 FT

T/O OVER 50′ OBSTACLE:

620 FT

LANDING ROLL:

230 FT
POWERPLANT:

PROPELLER:

COMM:

ENGINE MONITOR:

GPS (OPTIONAL):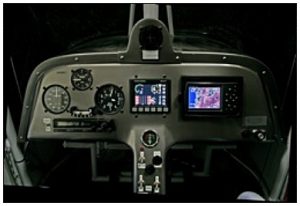 The contoured bucket seats are comfortable and natural feeling. To facilitate the long legged pilot community the X-Air measures 39 inches from the back of the seat to the rudder pedals, with the seat in the full aft position. Important to every pilot is head room and the LS provides excellent headroom from seat bottom to ceiling of 37.5 inches!
The LS comes with the a com radio, engine monitor and basic flight instrumentation. Optional equipment includes the Garmin GTX 327 transponder, Garmin 495/496, copilot brakes along with other future options. The X-Air LS is a low cost, well-equipped, entry-level aircraft with excellent training qualities, i.e. great handling characteristics. With the docile nature of the aircraft and very simple operating parameters, equally impressive is the entry-level price, a bargain in the LSA market.
*SHOWN WITH OPTIONAL EQUIPMENT / PRICE SUBJECT TO CHANGE WITHOUT NOTICE